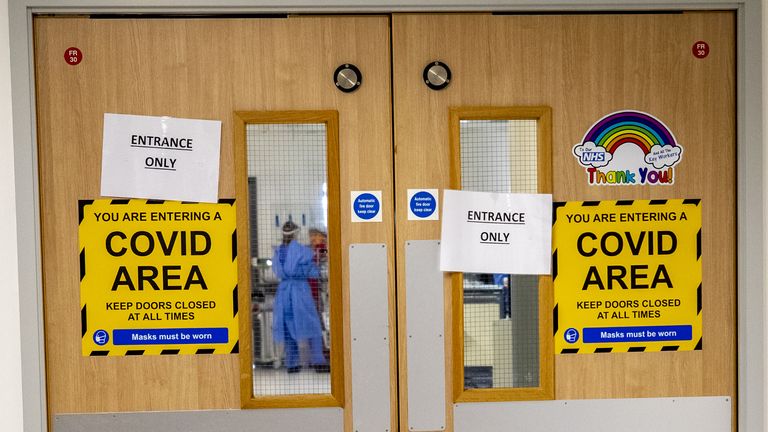 Another 47,525 cases have also been recorded – the third day running that new infections have been below 50,000.
Another 1,564 coronavirus deaths have been reported in the UK – the highest daily figure since the pandemic began following the late addition of some data going as far back as May.
The previous highest increase was 1,325, which was reported on 8 January.
It takes the total number of deaths within 28 days of a positive COVID-19 test to 84,767.
Another 47,525 cases have also been added to the government's coronavirus data dashboard – the third day running that new infections have been below 50,000. That total is now 3,211,576.
While the majority of the latest fatalities reported took place during the past week, some date back to 8 May 2020, when the very first national lockdown was still in place.
Ahead of the update to the UK-wide figures, NHS England confirmed that another 1,012 people who tested positive for COVID-19 had died in hospital, bringing that total to 57,828.
Patients were aged between 39 and 102 and all except 46 (aged 39 to 98) had known underlying health conditions.
The date of death ranged from 8 May 2020 to 12 January 2021, with the majority being on or after 6 January.
London had the most reported deaths at 202, which mayor Sadiq Khan later confirmed had taken the capital's total number of coronavirus deaths past 10,000.
Scottish first minister Nicola Sturgeon announced there had been 79 deaths recorded in the last 24 hours. Wales has reported another 66 deaths, and Northern Ireland another 19.
Public Health England medical director Yvonne Doyle said there had now been more COVID deaths across the UK during the second wave than the first last spring.
"With each passing day, more and more people are tragically losing their lives to this terrible virus, and today we have reported the highest number of deaths on a single day since the pandemic began," she said.
"There have now been more deaths in the second wave than the first.
"About one in three people with COVID-19 don't show symptoms but can still pass it on to others, so it is essential we stay at home, minimise contact with other people, and act as if you have the virus."
Johns Hopkins University, which is tracking the pandemic worldwide, reports the UK has more COVID deaths than any other country in Europe.
It is fifth overall, behind the US, Brazil, India and Mexico.
The number of people in hospital continues to rise in all four home nations, and in Wales the total is now more than double the peak of the first wave.
Dr Andrew Goodall, chief executive of the NHS in Wales, said there were now around 2,870 COVID-related patients being treated, meaning "difficult choices" would have to be made about the range of services delivered.
Hospitals in England also remain under huge pressure, although the prime minister said during PMQs earlier that the country's third national lockdown was "starting to show signs of some effect".
But he didn't rule out toughening up the restrictions further – and police are in talks with ministers about tightening the much-discussed rules on exercise.
Ms Sturgeon has already announced new measures for Scotland, including limiting click-and-collect services to essential shopping only.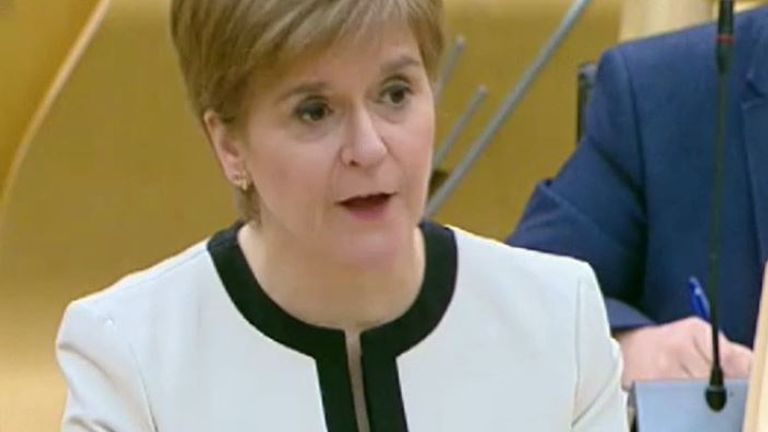 https://imasdk.googleapis.com/js/core/bridge3.433.1_en.html#goog_665445649Play Video – Sturgeon tightens alcohol rules to curb COVIDSturgeon tightens alcohol rules to curb COVID
Boris Johnson also told MPs that the NHS will launch a round-the-clock vaccination service as soon as possible.
He said that the process of protecting people from coronavirus is already going "exceptionally fast" – but "at the moment the limit is on supply" of the vaccine.
"We will be going to 24/7 as soon as we can," he said.
Health Secretary Matt Hancock will set out further details "in due course", Mr Johnson added.
More than 2.6 million people have received their first dose up to and including 12 January.
Why the daily totals are not yet as high as first wave (even if they might seem so)
Analysis by Ed Conway, economics and data editor
Another record number of deaths reported today. This is terrible news and underlines the scale of human loss occurring across the country. For the time being, though, it is important to note that the daily toll is, in comparable terms, still below the levels of the peaks in spring 2020.
While the daily announced totals go up and down depending on how many deaths are registered during any 24-hour period, looking at when the deaths occurred, the peak in spring was 1,072 on 8 April. Thus far in this second wave, the peak for deaths is 847 on 7 January.https://interactive.news.sky.com/2020/covid-19-coronavirus/deaths-uk-barchart/index.html
While the spring surge was sudden and quick, this wave has been longer lasting and more gradual, but no less lethal – indeed more so by some yardsticks.
However, beneath this grim news, there is a glimmer of hope elsewhere in the data. Look at case numbers and they seem to be falling – or at the very least plateauing (it will take a few more days to be sure of the trend).
Should that continue it will not prevent a tough couple of weeks, with more deaths and more pressure in hospitals. But it might mean that the overall picture for mortality starts to improve towards the end of the month.
source: news.sky.com