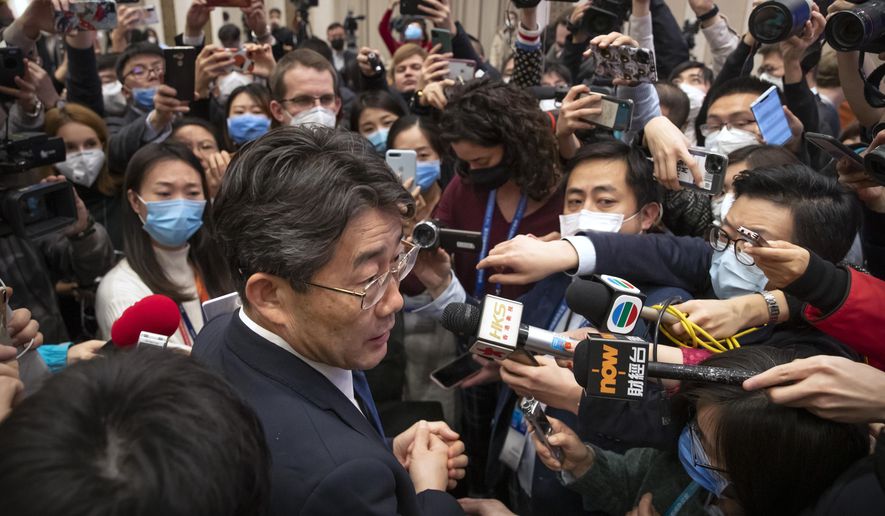 Gao Fu, bottom, the head of the Chinese Center for Disease Control and Prevention (CDC), speaks to journalists after a press conference about a virus outbreak at the State Council Information Office in Beijing, Sunday, Jan. 26, 2020. The new virus accelerated its spread in China, and the U.S. Consulate in the epicenter of the outbreak, the central city of Wuhan, announced Sunday it will evacuate its personnel and some private citizens aboard a charter flight. (AP Photo/Mark Schiefelbein)
A Wuhan laboratory is the "most likely" source of the COVID-19 outbreak now ravaging the globe, according to a U.S. government analysis that catalogs the evidence and concludes that other explanations for the origin of the coronavirus are less credible.
The document, compiled from open sources and not a finished product, says there is no smoking gun to blame the virus on either the Wuhan Institute of Virology or the Wuhan branch of the Chinese Center for Disease Control and Prevention, both located in the city where the first outbreaks were reported.
But "there is circumstantial evidence to suggest such may be the case," the paper says.
U.S. officials have grown increasingly skeptical of that version of events. President Trump confirmed this month that "a lot of people" are investigating the origin. Army Gen. Mark A. Milley, chairman of the Joint Chiefs of Staff, said U.S. intelligence agencies are investigating whether the virus escaped from a lab or was the result of a naturally occurring outbreak.
"At this point, it's inconclusive, although the weight of evidence seems to indicate natural," the general said on April 14, "but we don't know for certain."
soucre: washingtontimes